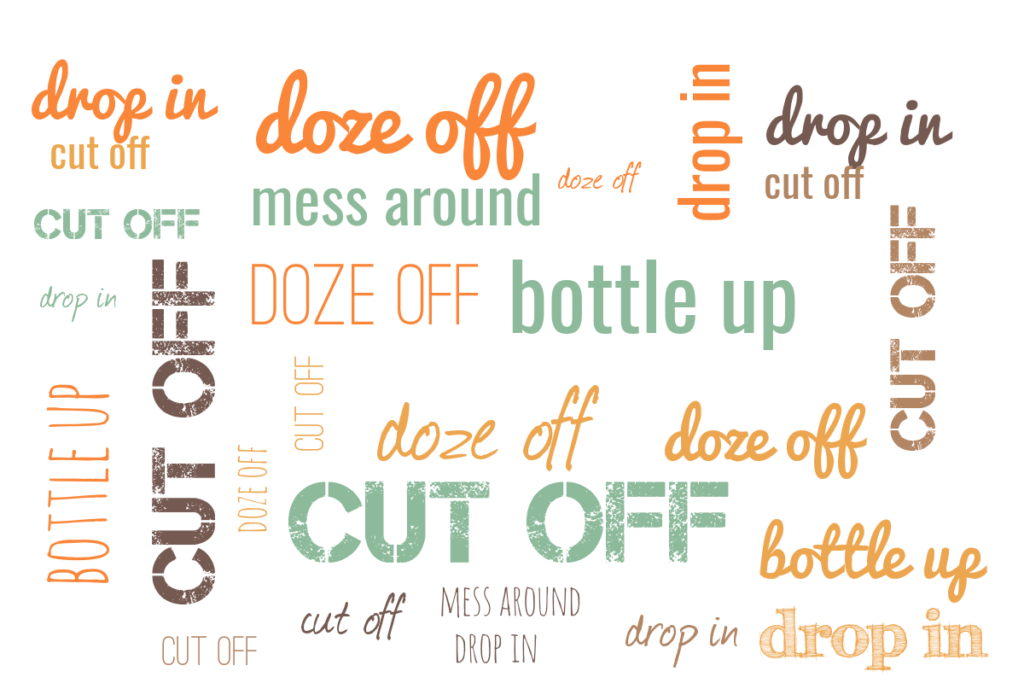 Zapraszam na czwarty wpis z serii: 25 phrasal verbs, które musisz znać. A tutaj znajdziesz e-book z czasownikami złożonymi. Znajdziesz tam 13 sposobów na opanowanie phrasal verbs.

1. Bring together – to cause people to be friendly with each other (pogodzić/ polepszyć stosunki). The disaster brought the local community together.

2. Dwa znaczenia break up:
1. If a marriage breaks up or two people in a romantic relationship break up, their marriage or their relationship ends (zerwać z kimś). She's just broken up with her boyfriend.

2. When schools and colleges, or the teachers and students who go to them break up, their classes stop and the holidays start (kończyć naukę przed feriami lub wakacjami)
We broke up for the holidays in June.

3.Pig out – to eat too much (obżerać się). We just pigged out on potato chips while we watched the movie.

4. Cut off – to stop providing something such as electricity, supplies, etc.: (odciąć). If this bill is not paid within five days, your gas supply will be cut off.

5. Doze off – If you doze off, you start to sleep, especially during the day (zdrzemnąć się). The office was so hot I nearly dozed off at my desk.

6. Play up – When children play up, they behave badly (rozrabiać). The boys have been playing up at school again.

7. Mess around – to spend time doing various things that are not important, without any particular purpose or plan (obijać się, wygłupiać się). They spend their weekends messing around on their boat.

8. Talk into – to persuade someone to do something (namówić). He's against the idea, but I think I can talk him into it.

9. Put forward – to state an idea or opinion, or to suggest a plan or person, for other people to consider (wysuwać, przedstawiać np. propozycję). The proposals that you have put forward deserve serious consideration.

10. bottle up something –  to refuse to talk about something that angers or worries you (tłumić, dusić w sobie). Feelings that had been bottled up for years came flooding out.

11. be cast away –  to be left somewhere such as on an island that is far from any towns or people, after escaping from a ship that has sunk (ulec rozbiciu (o statku)). If you were cast away on a desert island, what would you miss most?

12. call on – to come to see someone; visit (odwiedzić kogoś, przyjść z wizytą):
She went to the hospital to call on a sick friend.

13. Hit it off – to have a good relationship with someone from the first meeting (świetnie się rozumieć, od razu się polubić). When Julie met Sarah, they hit it off immediately.

14. draw up  – to prepare something in writing, esp. plans or a formal document (sporządzić, sporządzać (np. list, raport)). You should draw up an apology letter.  
15. wear out – to make someone feel very tired (wycieńczyć, wyczerpać)
She was worn out from looking after her sister.

16. back up somebody/something – to provide support or help to someone or something (wspierać). Back me up, I need your support. 

17. Drop by/in – to stop by for a visit, for a short time (wpaść, odwiedzić kogoś).
Peter is such a great boyfriend, when he heard that his girlfriend had a cold he dropped by to bring her some soup.

18. Pick on – to criticize, annoy, or punish someone repeatedly and unfairly (czepiać się). Don't pick on me.

19. Mull over – to think carefully about something for a long time (rozmyślać,  dumać). I need a few days to mull things over before I decide if I'm taking the job.

20. Chop up – If you chop something up, you chop it into small pieces (posiekać)
Chop up three firm tomatoes.
21. Make out – to deal with a situation, usually in a successful way (radzić sobie z czymś).
The business made out better than expected and profits were slightly up.

22. Pop out – if words pop out, you say them suddenly without thinking about it first (wyskakiwać z czymś, niekontrolowanie). I didn't mean to say that – it just popped out.

23. fight off – to free yourself from an illness or a desire to do something you should not do (zwalczyć). Her body couldn't fight the infection off.

24. hook up – to meet with someone, or to begin a relationship, esp. for a particular purpose (spotkać się). The program is really an opportunity for college kids to hook up and get to know each other.

25. Perk up – to improve or become more exciting (ożywić się). She is starting to perk up.

Ile czasowników z tej listy już znasz?

Jeśli podoba Ci się ten wpis, będzie mi bardzo miło, jeśli:
✔  zostawisz pod nim komentarz
✔  zaobserwujesz mój profil na Instagramie
✔ Zapraszam również na wpis: 25 phrasal verbs, które musisz znać (część 3).

A tutaj znajdziesz e-book: Odczaruj swój angielski – 101 phrasal verbs, które musisz znać.